Get 20% commission when you successfully refer customers to 3dmarket.com
With 3DsMarket.com's affiliate marketing program, you can take advantage of the large volume of 3D designer enthusiasts worldwide and convert it into a steady income. Take a look at the benefits we offer:
1. Attractive commission: For every successful transaction through your link, you will receive a commission of 20% of total sales. We value your work and are committed to making sure you get it right.
2. Quality Products: 3DsMarket.com offers a diverse and rich library of thousands of high-quality 3D documents and resources. You can confidently recommend reliable and useful products to the 3D design community.
3. Maximum Support: We are committed to supporting you throughout the affiliate marketing process. We provide tools, materials and detailed instructions to help you succeed. Our support team is always ready to answer any of your questions.
4. Easy to use interface: Our affiliate marketing system is designed for ease of use and convenience. You can track revenue, track links, and manage your activity with ease.
5. Expanding Potential: The 3D design field is growing rapidly and has great business potential. By becoming an affiliate marketing partner of 3DsMarket.com, you can capitalize on this trend and expand your earning potential.
Don't wait any longer! Join the affiliate marketing monetization program with 3DsMarket.com today and turn your passion into a steady source of income. Sign up and start sharing links to great 3D materials and resources now!
The 3DsMarket.com team is looking forward to working with you and we will be your companion in your journey to successful monetization of 3D design!
Instructions to use Affiliate to make money with 3dsmarket.com
Step 1: Register for 3DsMarket.com Affiliate program HERE
Step 2: Get Affiliate Link
After you have successfully registered, you will receive a unique Affiliate link (1) or you can custom link generator with enter any URL from this website in the form (2) and click "Creat custom link" (3) to get new affiliate link.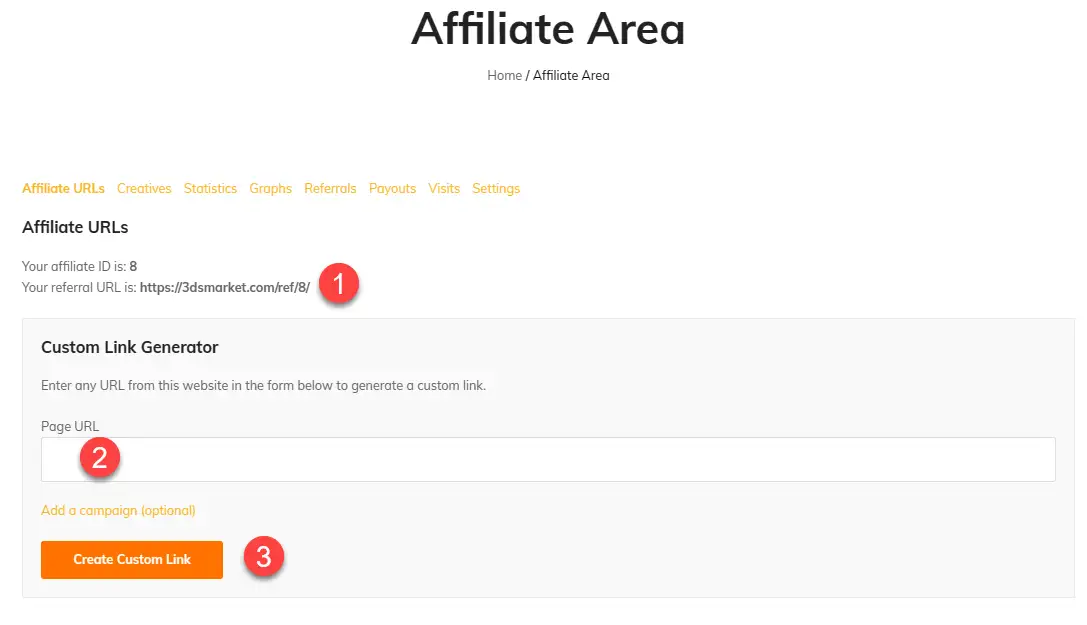 This is the link that you will use to refer new users to 3DsMarket.com. When a user clicks on this link and makes a purchase on the site, you get a commission.
Step 3: Share Affiliate Link
How you share affiliate links depends on your scope and goals. Here are some ideas you can apply:
Personal blog or website: If you have a personal blog or website, you can write reviews, user guides, or share resources from 3DsMarket.com. In the article, you can give an affiliate link and encourage readers to click on it to learn more or buy the product.
Social Network: Use social networking platforms like Facebook, Instagram or Twitter to share affiliate links. You can create promotional articles or announcements to attract the attention of your followers and encourage them to visit 3DsMarket.com through your link.
Online communities: Join forums, Facebook groups, or online communities related to 3D and graphic design. Share useful information with members and mention 3DsMarket.com as a valuable resource. Do not forget to attach an Affiliate link so that users can access and purchase.
Step 4: Monitor and optimize
Track your affiliate link activity so you can see how many users you have referred and how many purchases have been made through your link. 3DsMarket.com often provides tools for you to monitor your activity. Based on this information, you can optimize your marketing strategy for the best results.
Step 5: Get payment
3DsMarket.com accepts payments via Paypal or Your Wallet. Minimum payout threshold is $25
Good luck!